Cincinnati Urban Adventure Race
Saturday, April 27, 2013
Downtown Cincinnati, Ohio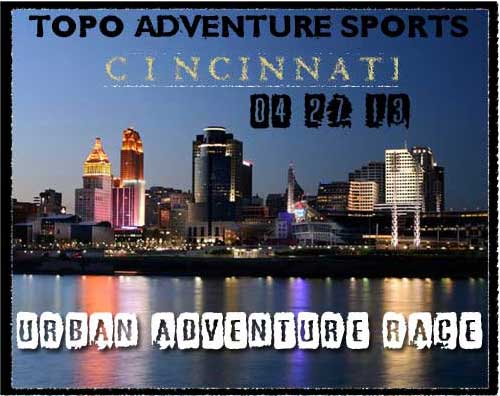 Results are posted!
Disciplines
4 hours of urban trekking and biking
Divisions
1-4 person teams of any gender are welcome. Awards will be given to the top 3 finishers in the race.
About the race
Are you ready for a downtown adventure? The race is an urban adventure race in and around the Cincinnati/Northern Kentucky area.
Throughout the 4 hour race, you will experience both the urban side of Cincinnati as well as the numerous adventure opportunities located within the city. Team up with friends or tackle the challenge as a soloist for this adventure.
Racers will navigate the city with a map, expect to be on foot for part of the race and on bike for other parts of the race. Any bike can be used, but you may find yourself off road at times.
Schedule:
Race Start -- 9:00am
Race Cutoff -- 1:00pm
Post race meal/award ceremony -- 1:00 - 2:00 pm
Additional FAQS can be found here!
Click here for the Gear List
Registration
Cost: $60 per person
Registration is now open for the Cincinnati Urban Adventure Race.
You can register online at no cost via Paypal by clicking the registration button
Online Registration closes 4/26, but entries must be received by 4/7 to receive a race t-shirt
Additional Information
At registration, your team will be provided with the basic information you will need to begin organization of your gear prior to receiving your race map(s). At the race briefing you will receive all additional information you will need for the start of the race.
Each team will be provided pre-marked map(s) for the course. Each team will be provided with a race punchcard and a set of race instructions. The maps, punchcard, and race instructions are the responsibility of the team once they are distributed.
Registration inclued all race maps and cluesheets printed on waterproof paper, a race tech t, and a post race meal
Any additional information regarding the race will be posted on this website as the race date gets closer.
Please contact us with any questions you may have.